WEEKLY NEWSLETTERSIGN  UP (FREE):
DISCOVER  HOW  HAPPINESS  BEGINS  WITH  YOU! 
                                                                                                        CREATING THE LIFE CHANGES

                                                                                  YOU WANT TO MAKE.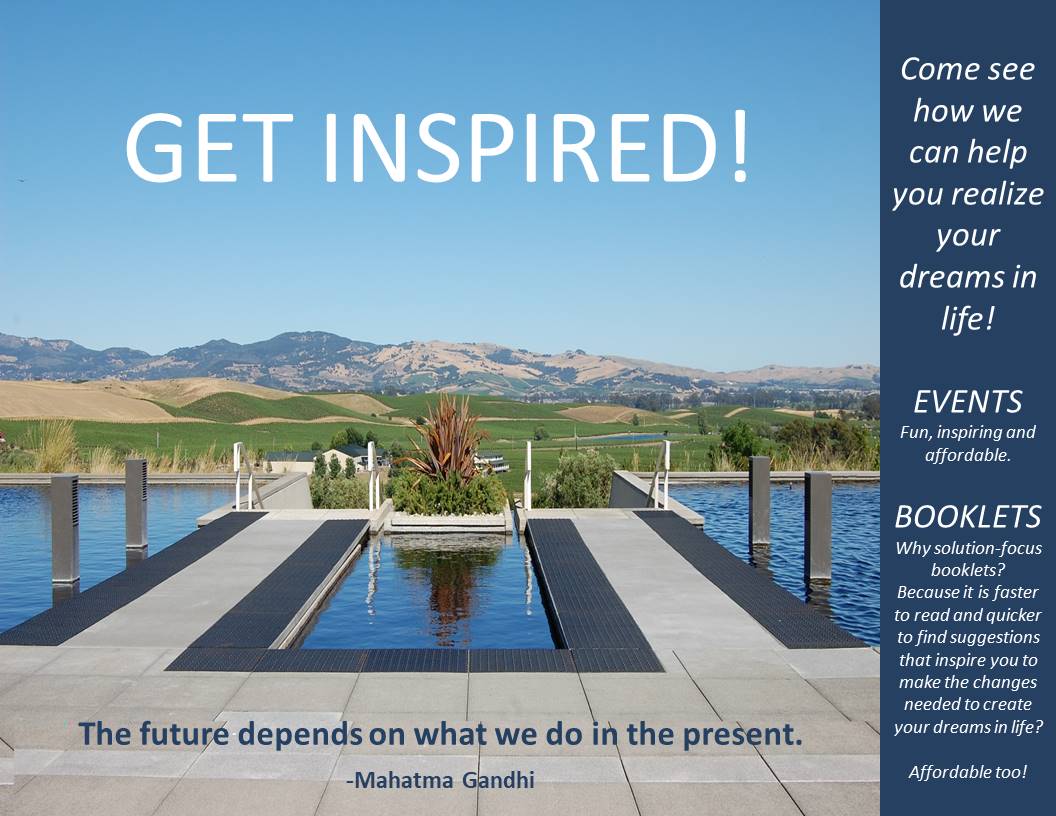 STOP CHASING YOUR DREAMS…
and choose to create the life changes you want to realize your dreams.
It's time for you to be the person you know in your heart and soul to be.
Believe me… doing so is not only the key to realizing your dreams…
it is the key to your happiness in life.


What we all need to be reminded of is… if we want our lives to change for the
better, then we need to make different choices.  The next step is taking the necessary actions
to support our choices.  How can this be accomplished?  By learning to look beyond our immediate situation in life.  By believing without a doubt that our passions and dreams are worth pursuing and realizing in life.  By knowing in our heart and soul that happiness is within our reach, and that we were born to succeed at being what we enjoy doing in life.    

I get it… believing in yourself might be difficult, stressful and even frightening to imagine as it requires you to change your perception of yourself.  The thing is… you don't have to do this alone.  I'll show you how to build the courage you need to develop your self-confidence
and become self-reliant.  The courage you need to rise above your fears, banish self-doubt,
and let go of feelings that elicit insecurities and vulnerabilities.  The courage you need to
acknowledge that you are worthy of love and respect.    

You know what to do… you know what you need to be and feel happy in life, so take the first step, click on the image below and find out more about how you can change your life for the better.    

↓



Our logo, an antique key, was chosen as a symbol that you personally hold the key which opens the door
to the happiness that resides within your heart and soul. 

Our name, © Heart & Soul Coaching and Retreats ®, was chosen to express that helping people reconnect with what makes them feel happy in life, comes from our heart and soul.  It is us living 
our purpose and passions… creating what makes us feel happy in life. 

We thank you for letting us inspire you to realize the importance of believing in yourself,
and learning about the powers behind creating happiness in your life: further developing your self-leadership ability by welcoming change on a daily basis through your choices, your courage, and your commitment to self-care.  From self-care comes self-love, self-worth and self-reliance.  All of which are required for you to create meaningful and rewarding experiences that lead to living a fulfilling and happy life.

If you have any questions, connect with us.  We'd be happy to provide you with answers. 
 
********************************************
Disclaimer: While Heart & Soul Coaching and Retreats™ respects all faiths, organized religions, atheism, agnosticism, we simply come from an unbiased perspective. Our intent is to offer information of a general nature through our tools, techniques, events, experiences, products and services to help people with their search for well-being… happiness.  
The advice found on this website is not to be used as a form of treatment for medical, emotional or physical problems. 
Always seek the advice of your physician.  Be well! 

All information and photos on this website are the property of Heart & Soul Coaching and Retreats®, and unless otherwise indicated, may not be used, reproduced or copied without the consent of Heart & Soul Coaching and Retreats® and
Christine Beauregard-Zvalo and Peter Zvalo.



to Top




Heart & Soul Coaching and Retreats®

Ottawa, ON
Canada 
(613) 739-0009
christine@heartandsoulcoaching.ca
www.heartandsoulcoaching.ca                                                                                                                                                                                                                                         ICF ACSTH
We are bilingual. / Nous sommes bilingues.                                                                                                                      ©  2018 Heart & Soul Coaching and Retreats ® 

Follow us and like us on:
facebook_account linkedin_account