YOU'VE
got so much to offer this world! 
Believe me, it's time for you to be the person
you know in your heart and soul to be.

↓




Time for you to let go
of what no longer serves you – what is outlived in your life (limiting beliefs, negative thinking, destructive behaviours, and feelings of victimhood that elicit fears such as anxiety, rejection, abandonment, jealousy, resentment, anger, loneliness, etc.).

*****

Time for you to welcome 
what is unlived in your life, new experiences filled with love and compassion that fuel your soul's purpose, express your passions, and evoke joy, happiness, romance and abundance
in all areas of your life. 

*****

Time for you to get unstuck
and learn to welcome change as part of life in order to actualize your aspirations, live out your passions, reach your full potential
– realize your purpose in life.

*****

What you need my friends is what everyone needs… COURAGE. 

Courage to change what you want to change in your life. 
Really when you think about it…
courage is having the self-confidence to make
choices and changes in your life in order to realize your aspirations, your dreams in spite of your self-doubt. 
It's having the courage to let go of who you were to become who you want and are meant to be in life.    

The thing is… you're the only one who can do this for yourself. 

How? 

By making a choice to develop your ability to improve your life and change it in the direction you want to go in.  This is your ability to influence your own thoughts and behaviours in life
– your self-leadership ability. 

↓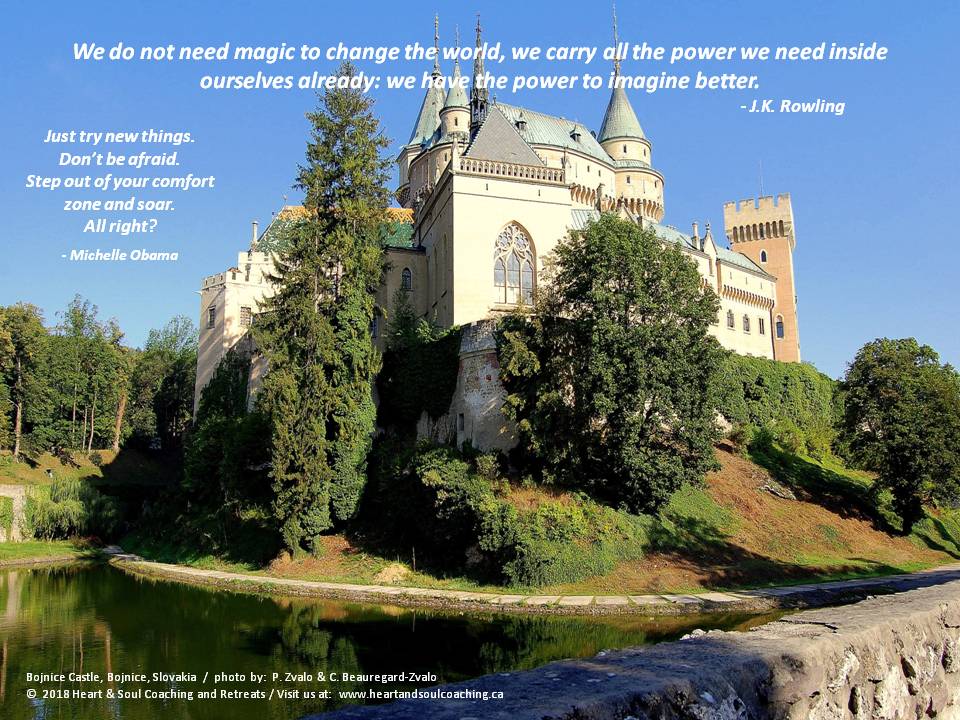 When you choose to develop your ability, you make a commitment to start believing in yourself.  The more you believe in yourself, the more self-confident and courageous you become.  Your outlook on life changes as this one very important choice and commitment turns into healthy behaviours that have a
ripple effect on the rest of your experiences in life. 
You not only learn to make choices that are authentic with your personal values, you learn how to welcome changes as opportunities – not obstacles in life.       

↓

Let us inspire you to build the courage you need to make the changes you want to make in life. 



In oneself lies the whole world, and if you know how to look and learn,
the door is there and the key is in your hands. 
-J. Krishnamurti 


     

↓

 

Time for you to make a choice!

Are you wanting to experience something new or different
in your life? 

If so, connect with us!  Sign up for our FREE 365 days of Simple Suggestions to make you Smile e-mails.  Learn more… click on image below.
 
Join us for one of our fun events – yes, I did write f-u-n. 

Really, everyone should have fun woven through their daily lives.  Our events are not workshops.  They're life-learning experiences, and knowledge-sharing adventures that help you to stop overthinking, and instead help you start doing what makes you feel happy in life.  It's where you learn to give your 'self' permission to be the person you know deep in your heart and soul to be.  Learn more… click on image below. 

Go ahead, sign up!  Why?  Because you're totally worth it and who knows… you just might meet a new friend or two.
 

Come check us out! 

We're not only helpful, we're affordable and fun!

Click on images below… and let's get you started!


↓




↓




Here's what we know.  If making the change you want to make in life is important to you, you'll make it happen.
If it's not important, you'll continue to find excuses because we all know that it's a lot easier to continue to doubt ourselves
than to face our fears and take action.  Been there, done that!  Problem is the more you focus on doubting yourself,
the more the brain mirrors it back to you. 

Stop listening to your fears, start listening to your intuition and trusting what your soul is communicating to you.
You can do this, have faith in yourself and the rest will happen when you least expect it.  

Also, read up on the benefits of developing your
self-leadership ability.

↓

↓


Taking one small step in the direction you want to go in life takes self-confidence and self-determination, but I know you and I were given the same inner life tools at birth – one of these is courage.
What you need to remember is the old adage…
practice makes perfect!

You know you're ready for this change, you've been ready
for a long time.

It's about making choices and following up with actions that are authentic and aligned with your own values. 

It's about exploring each and every moment in life and chasing them all the way to your dreams.  





↓



For more information on how we can help you get started and create this for yourself, learn more about our
Choice Life Approach™, Model™, Strategy™,
and S.O.U.L. Practice™.


* * *


Ready to get started?  
 
Click on images below to experience our events, view our services and try our products.
* 
*
 


Nobody's going to do your life for you.
You have to do it yourself, whether you're
rich or poor, out of money or raking it in,
the beneficiary of ridiculous fortune
or terrible injustice.
And you have to do it no matter what is
true. No matter what is hard.
No matter what unjust, sad,
sucky things befall you.
Self-pity is a dead-end road.
You make the choice to drive down it.
It's up to you to decide to stay parked
there or to turn around and drive out.
-Cheryl Strayed



↓


Don't do it alone.
 Let us help you make the changes you want to make in life.
It really does start with you investing in yourself.

↓







Disclaimer: While Heart & Soul Coaching and Retreats™ respects all faiths, organized religions, atheism, agnosticism, we simply come from an unbiased perspective. Our intent is to offer information of a general nature through our tools, techniques, events, experiences, products and services to help people with their search for emotional, physical, and spiritual well-being.    
The advice found on this website is not to be used as a form of treatment for medical, emotional or physical problems. 
Always seek the advice of your physician.  Be well! 

All information and photos on this website are the property of Heart & Soul Coaching and Retreats®, unless otherwise indicated, and may not be used, reproduced or copied without the consent of Heart & Soul Coaching and Retreats® and the photographers:  Peter Zvalo & Christine Beauregard-Zvalo .


↓


Get inspired!
Don't wait until tomorrow, start today.
Invest in yourself.  You deserve it.
---
Heart & Soul Coaching and Retreats

Ottawa, ON
Canada 
(613) 739-0009
christine@heartandsoulcoaching.ca
www.heartandsoulcoaching.ca                                                                                                                                                                                                                                   ICF ACSTH
We are bilingual. / Nous sommes bilingues.                                                                                                                    ©  2018 Heart & Soul Coaching and Retreats ®
Follow us and like us on:
facebook_account linkedin_account