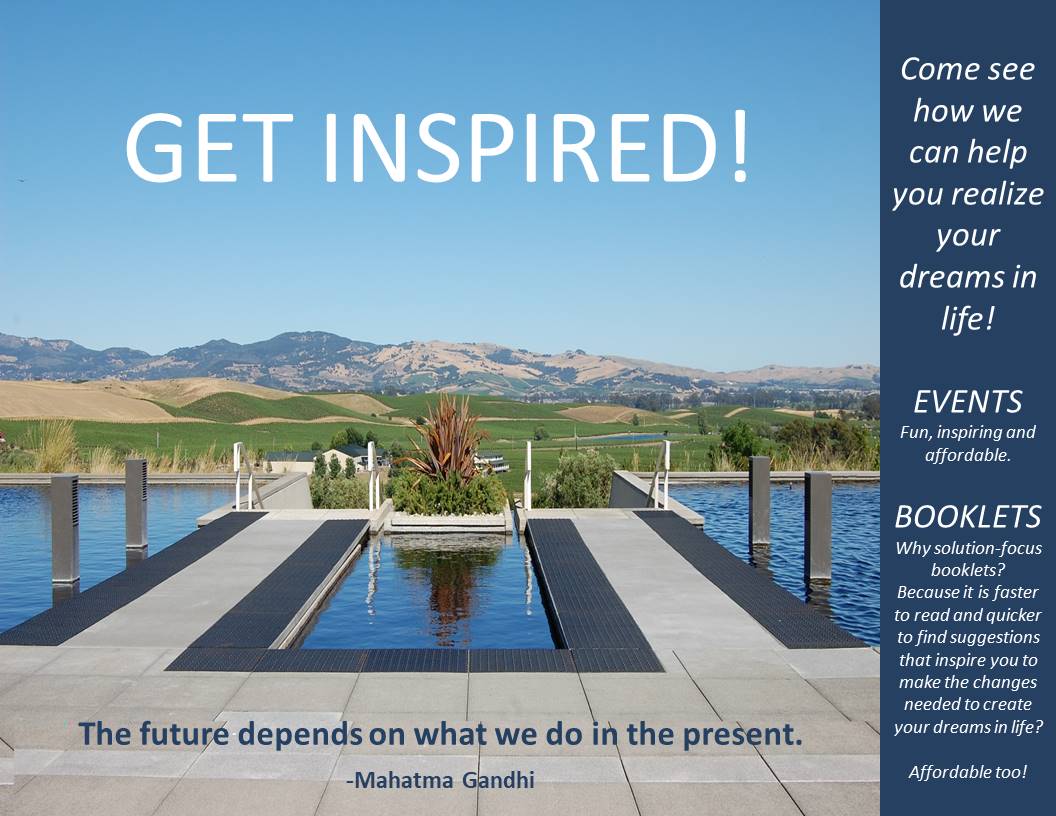 It's time for you to establish the freedom you need to create what makes you feel happy in life. 



Believe me…
doing so is not only the key to accomplishing your goals and realizing your aspirations in life, it's the key to being the person you know in your heart and soul to be.
  

What if I told you… that happiness really does start with you. 
It comes from within you.  From making a choice to be authentic with your 'self' – nurturing what makes you different from others. 

Trust me… your 'difference' is your gift to the world. 
Your difference is your purpose and passions in life.  Notice how 'it' makes you feel happy when you talk about it, fulfilled when you create things with it, and rewarding when you share it with others.
Your difference is what people want to feel from you.    


YOU DON'T HAVE TO DO THIS ALONE. 


Our three-step approach
helps people build the courage needed to nurture and develop abilities and qualities that enable
them to make choices that 
align with their values. 
Choices that are essential in
helping them make changes that
better their lives.




 
Making changes in your life doesn't mean changing who you are, it means becoming more of who you really want and need to be.


Developing your self-care and
self-leadership abilities helps you believe in yourself and improve your outlook in life.  As you learn to balance your vulnerability with persistence and bravery, it enables you to remove the barriers that are holding you back, and rise above your fears and insecurities. 

Learn more about the benefits of self-leadership.  



As an individual,
you know what to do… take the first step and be courageous right now.  See if one of our programs can help you make the changes you want to make to help you create your
happiness in life.
Team building and psychological assessment insights are great.
Truth is, as a motivational tool, they're getting a little old… don't you think?


If you really want to inspire
your employees to respect, believe
in your organization's vision, have confidence in its mission, and be motivated to create positive and measurable results… the key is to
first be aware of what inspires them, and second, give them the freedom to   share it within your organization.    


Our process is easy… click on images below to e-mail us, or call at 613.739.0009   Let's get you started today!



Check out our booklets (free sample) on how your self-care and self-leadership abilities play major roles in establishing the freedom you need to create the happiness you want in life. 

Join us for our free There-For-You Talks on Facebook, at noon on
Tuesdays and Thursdays where we share ideas, life tools, resources and wisdom on how to create what makes you feel happy in life.  

Ya never know what other topic might come up next! 


Don't leave before signing up for our free e-newsletter
where we share simple strategies and ideas to help you find the courage
to follow your heart and listen to your soul. 

→  We share inspiring short stories about self-love, self-worth and self-reliance.
→  Articles on the benefits of developing your self-esteem, self-respect, self-trust, self-confidence, self-motivation and self-determination.
→  Our featured piece on Awakening the Goddess Within You. 
Susan Sandul has you travel back in time to explore the many facets of a woman. 
→  Notes from Your Coach that will inspire you to become the person
you know in your heart and soul to be. 
→  Exploring self-care and self-leadership life tools from our Heart & Soul toolkit,
→  A look at our upcoming events. 
→  Our Wise Old Owl who! who! who! manages our subscribers' Q & As. 
  and,
→  If you like a little mystique… prepare to be fascinated by our Passport to your Soul stories where we share the many ways of creating meaningful, rewarding and romantic experiences that lead to a fulfilling and happy life.   

What?  You want more inspiration!  We've got you covered! 
Check out our Coach's Quotes Corner!



********************************************
Disclaimer: While Heart & Soul Coaching and Retreats™ respects all faiths, organized religions, atheism, agnosticism, we simply come from an unbiased perspective. Our intent is to offer information of a general nature through our tools, techniques, events, experiences, products and services to help people with their search for well-being… happiness.  
The advice found on this website is not to be used as a form of treatment for medical, emotional or physical problems. 
Always seek the advice of your physician.  Be well! 

All information and photos on this website are the property of Heart & Soul Coaching and Retreats®, and unless otherwise indicated, may not be used, reproduced or copied without the consent of Heart & Soul Coaching and Retreats® and
Christine Beauregard-Zvalo and Peter Zvalo.



to Top




Heart & Soul Coaching and Retreats®

Ottawa, ON
Canada 
(613) 739-0009
christine@heartandsoulcoaching.ca
www.heartandsoulcoaching.ca                                                                                                                                                                                                                                         ICF ACSTH
We are bilingual. / Nous sommes bilingues.                                                                                                                      ©  2021 Heart & Soul Coaching and Retreats ® 

Follow us and like us on:
facebook_account linkedin_account