YOU'VE


got so much to offer this world!
Believe me, it's time for you to be the person
you know in your heart and soul to be.

Doing so… is the key to your happiness in life.




Hello everyone and welcome!
 

What if I told you that it's simpler than you think and
as easy as you can image.

It's about listening to your heart – your inner voice that doesn't use words
but knows exactly what you want and need in life.

The thing is, you need to quiet your brain to hear it.
Then, listen as it helps you make the right choices in life, and guides you to modify and change certain behaviours to realize your dreams.

If I can do this, so can all of you.
Believe me, you and I were given the same life tools at birth. You just need to learn how to use them to your advantage.

My company, Heart & Soul Coaching and Retreats® was created to help those of you who want to change your lives for the better.
This is my gift that I am sharing with all of you so you can make your world a better place to create a
meaningful, rewarding and happy life.

My company helps people make the changes they want to make in life, in spite of their self-doubts or fears.  Our events and, products and tools help people accomplish their goals and realize their dreams in life.  

We have a beautiful ability to help us realize our dreams in life: this is our self-leadership ability.  Our ability to consciously influence our thoughts in life.  What sometimes lacks within us is the inspiration to further develop our ability's key qualities such as self-esteem, self-respect, self-reliance/trust, self-confidence, self-motivation and self-determination to help us create our dreams.

That's where I can help you.
The effect you have on others is the most valuable currency there is.  – Jim Carrey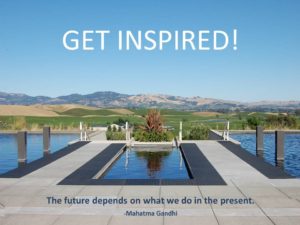 Come see what we're about.

Scroll through this website and find out what
Heart & Soul Coaching and Retreats® can offer you as inspiration
to realize your dreams.

Check out our inspiring, fun and affordable events that come with life tools that continue to help you throughout your life.

Don't like events?  We totally understand.
Prefer to read and learn in the comfort of your home?  Check out our easy-to-read and affordable booklets.  Why booklets?  We chose a small book format so you don't have to read close to 300 pages before finding suggestions and solutions to help you make the changes you want to make in your life!   

So, what do you say, isn't it…

time for you to let go
of what no longer serves you – what is outlived in your life (limiting negative thinking, destructive behaviours, and feelings of victimhood that elicit fears such as anxiety, rejection, abandonment, jealousy, resentment, anger, loneliness, etc.).

*****

time for you to welcome 
what is unlived in your life – new experiences filled with love, joy, and compassion that fuel your soul's purpose; and the simple things in life that rekindle your passions in life… creating little moments that fill your heart with happiness,
romance, and adventures. 

*****

time for you to get unstuck
and learn to welcome change as part of life in order to actualize your aspirations, live out your passions, reach your full potential
– realize your purpose in life.

*****

What you need my friends is what everyone needs…
COURAGE. 

Courage to change what you want to change in your life. 





Courage is the ability to do something though it frightens you.
It's about being bold and brave in life in order to accomplish your goals and realize your dreams in spite of your fears and self-doubt. 
It's having the courage to let go of who you are, to become who you
want and are meant to be in life.

When you choose to develop courage in life, you make a commitment
to start believing in yourself. The more you believe in yourself, the more self-confident and courageous you become.  Your outlook on life changes
as this one very important choice and commitment creates
a ripple effect on the rest of your life. 

You not only learn to make choices that are authentic with your personal values, you learn how to welcome changes as opportunities
– not obstacles in life.

Time for you to make a choice!

Are you ready to let go of your fears and limiting beliefs about yourself?
Are you ready to start making authentic choices to improve your life and change it in the direction you want to go in?  Here's what we know.  If making the change you want to make in life is important to you, you'll make it happen.
If it's not important, you'll continue to find excuses because we all know that it's a lot easier to continue to doubt ourselves than to face our fears
and take action.  Been there, done that!  Problem is the more you focus on doubting yourself, the more the brain mirrors it back to you.

Our Choice Life Approach™ process is very simple.

↓



If you have any questions, connect with us.  We'd be happy to provide you with answers.    
 

Don't do it alone.
 Let us help you make the changes you
want to make in life.


Disclaimer: While Heart & Soul Coaching and Retreats™ respects all faiths, organized religions, atheism, agnosticism, we simply come from an unbiased perspective. Our intent is to offer information of a general nature through our tools, techniques, events, experiences, products and services to help people with their search for well-being… happiness.    
The advice found on this website is not to be used as a form of treatment for medical, emotional or physical problems. 
Always seek the advice of your physician.  Be well! 

All information and photos on this website are the property of Heart & Soul Coaching and Retreats®, and unless otherwise indicated, may not be used, reproduced or copied without the consent of Heart & Soul Coaching and Retreats® and

Christine Beauregard-Zvalo and Peter Zvalo.
---
Heart & Soul Coaching and Retreats

Ottawa, ON
Canada 
(613) 739-0009
christine@heartandsoulcoaching.ca
www.heartandsoulcoaching.ca                                                                                                                                                                                                                                   ICF ACSTH
We are bilingual. / Nous sommes bilingues.                                                                                                                    ©  2018 Heart & Soul Coaching and Retreats ®
Follow us and like us on:
facebook_account linkedin_account