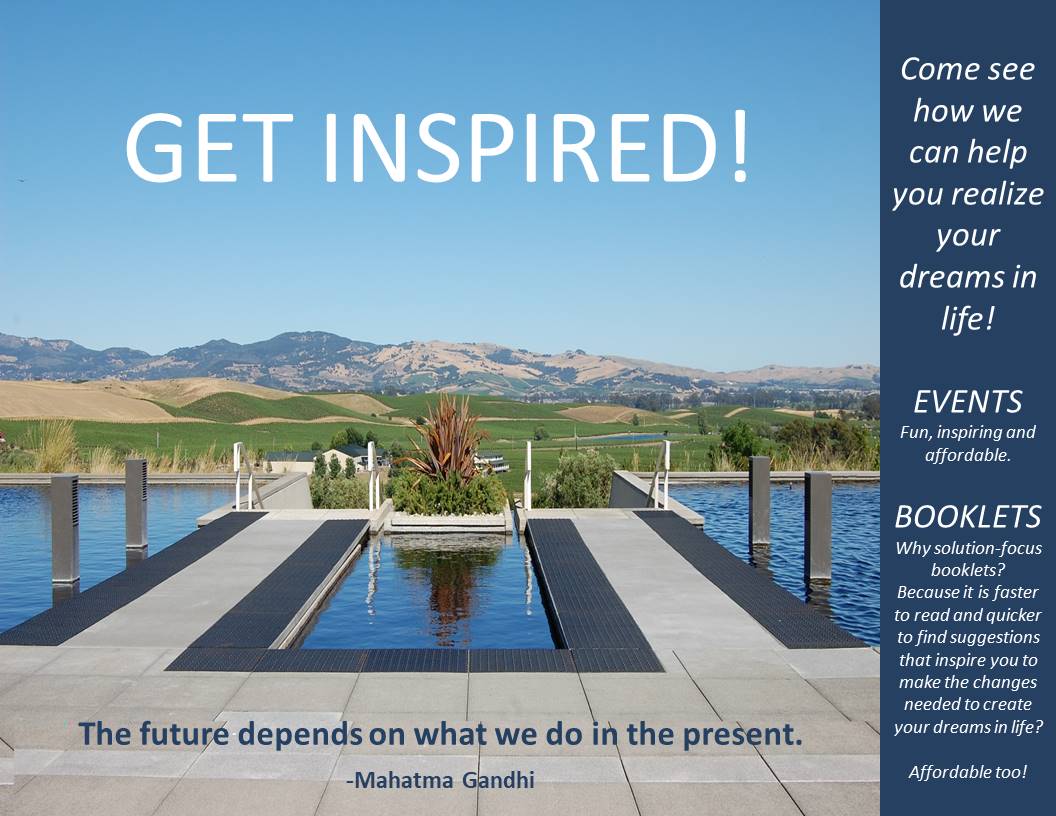 YOU…  
have so much to offer this world!
Believe me, it's time for you to be the person you know 
in your heart and soul to be.

It's time for you to lead your life. 
Trust me… doing so is the key to your happiness in life.


You see, each and everyone of us are born to be leaders.
Leaders of our own lives while collaborating with others to accomplish our goals and realize our dreams, as well as theirs, in life.  What we seem to forget is that leading means taking charge of our own thoughts, being responsible for the choices we make and the actions we take on a daily basis.

How can this be achieved? 
→ By welcoming change in your life on a daily basis, → by working with the life tools you already have… key qualities of your self-leadership ability: self-esteem, self-respect, self-confidence, self-trust, self-motivation and self-determination, and, → by trusting in your ability to develop the courage you need to respect your commitment to
accomplish your goals and realize your dreams in life.

I get it… change can be difficult, frightening and stressful. 
You don't have to do this alone.  How about letting me show you how to banish self-doubt and feelings that elicit insecurities, vulnerabilities and fears.    
What you need is what everyone needs…

COURAGE.
 
Courage to change what you want to change in your life. 

It's having the courage to let go of who you are, to become who you
want and are meant to be in life.  When you choose to develop courage in life,
you make a commitment to start believing in yourself.  Here's the thing… the more you believe in yourself, the more self-confident, self-reliant and courageous you become.
Ready?  Click on image below.  Not quite ready?  Learn more below image.

↓




Trust me you've got this.  Stop hesitating or procrastinating.  You're ready. 

It's about building the courage you need to make a change in your life though if frightens you.  The courage you need to make choices that are aligned with your own personal values and needs in life.  The courage you need to dissolve old negative patterns – limiting beliefs and destructive behaviours, so that you can move forward with accomplishing your goals and realizing your dreams in life.   
The courage you need to better your life.



So, what do you say, is it time for you to let go
of what no longer serves you – what is outlived in your life (limiting negative thinking, destructive behaviours, and feelings of victimhood that elicit vulnerabilities, insecurities and fears such as anxiety, shame, guilt, rejection, abandonment, jealousy, resentment, anger, loneliness, etc.)?

*****

Is it time for you to welcome 
what is unlived in your life – new experiences that ignite your passions in life.  Simple things and little moments filled with love, joy, romance, compassion, achievements, and adventures that fuel your soul's purpose and fill your heart with happiness in life?
*****

Is it time for you to get unstuck
and learn to welcome change as part of evolving as a person in life in order to reach your full potential:  accomplish your goals and realize your dreams in life? 

Your choice… 

Not ready for change ?  __           or             Believe in yourself?  __
 


​


Join us at one of our events, talks, check out our services and products, and we'll share how our Choice Life Approach™ process and tools can help you with each step you take towards celebrating your success. 

↓
 

FIND OUT

MORE

ABOUT

US.

  

 


Come see what we're about!




Our logo, an antique key, was chosen as a symbol that you personally hold the key which opens the door to the happiness that resides within your heart and soul. 

Our name, © Heart & Soul Coaching and Retreats ®, was chosen to express that helping people reconnect with what makes them feel happy,  in life comes from our heart and soul…
our purpose, passion and happiness in life. 

We thank you for letting us inspire you to realize the importance of believing in yourself,
and in the power behind your choices:  your courage, and your commitment to further develop your self-leadership ability.  Let us help you create meaningful and rewarding
experiences that lead to living a fulfilling and happy life.

 
If you have any questions, connect with us.  We'd be happy to provide you with answers. 
Ready to get started?  

↓


Don't do it alone.
 Let us help you make the changes you want to make in life.
It starts with you investing in yourself.

Disclaimer: While Heart & Soul Coaching and Retreats™ respects all faiths, organized religions, atheism, agnosticism, we simply come from an unbiased perspective. Our intent is to offer information of a general nature through our tools, techniques, events, experiences, products and services to help people with their search for well-being… happiness.  The advice found on this website is not to be used as a form of treatment for medical, emotional or physical problems. 
Always seek the advice of your physician.  Be well! 

All information and photos on this website are the property of Heart & Soul Coaching and Retreats®, and unless otherwise indicated, may not be used, reproduced or copied without the consent of Heart & Soul Coaching and Retreats® and

Christine Beauregard-Zvalo and Peter Zvalo.



to Top




Heart & Soul Coaching and Retreats®

Ottawa, ON
Canada 
(613) 739-0009
christine@heartandsoulcoaching.ca
www.heartandsoulcoaching.ca                                                                                                                                                                                                                                         ICF ACSTH
We are bilingual. / Nous sommes bilingues.                                                                                                                      ©  2018 Heart & Soul Coaching and Retreats ® 

Follow us and like us on:
facebook_account linkedin_account