WELCOME EVERYONE!






↓

LOOKING TO INSPIRE YOUR ORGANIZATION?

LET  HEART & SOUL COACHING AND RETREATS INSPIRE YOU AND YOUR EMPLOYEES.

LEARN MORE ABOUT OUR CHOICE LIFE APPROACH.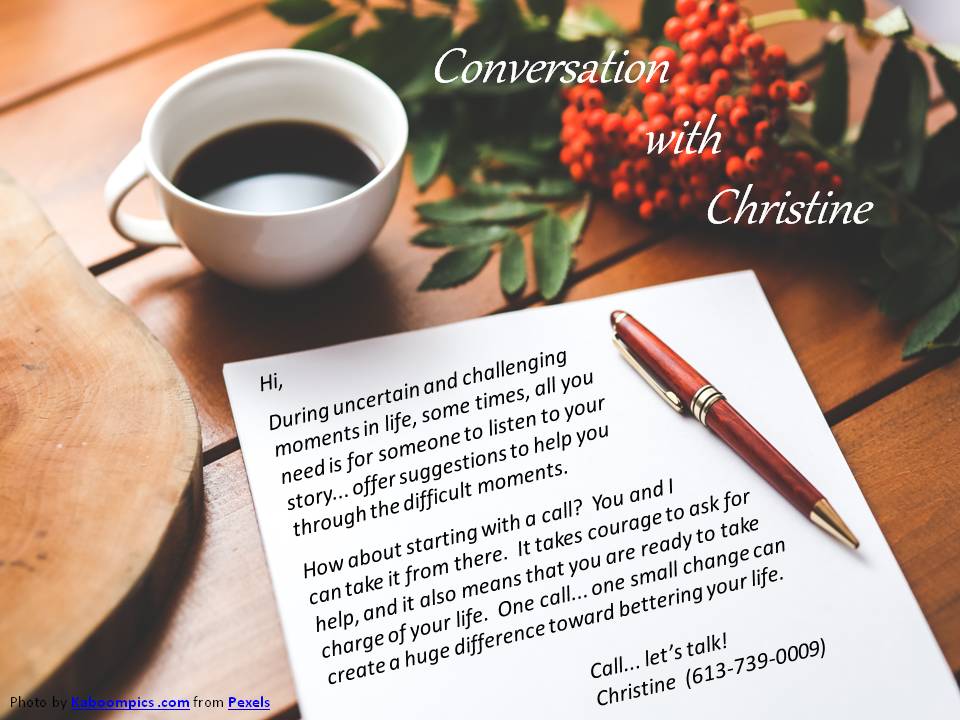 A CONVERSATION WITH CHRISTINE…

WHEN ALL YOU NEED IS  SOMEONE TO TALK WITH TO HELP YOU EXPLORE CHOICES YOU MAY NOT REALIZE YOU HAVE.


JOIN CHRISTINE FOR AN INDIVIDUAL SESSION AND LEARN TO BUILD THE COURAGE NEEDED TO CREATE THE LIFE OF YOUR CHOICE, LEARN TO BECOME SELF-RELIANT, ACHIEVE YOUR GOALS AND REALIZE YOUR DREAMS IN LIFE  →  IT'S ALL ABOUT DEVELOPING YOUR SELF-ESTEEM,
SELF-RESPECT, SELF-CONFIDENCE, SELF-TRUST, SELF-MOTIVATION, AND SELF-DETERMINATION.

BY TELEPHONE OR FACEBOOK MESSENGER (WITH OR WITHOUT VIDEO) CHAT.

CALL TO SCHEDULE A SESSION:  613.739.0009



BECAUSE OF THESE UNCERTAIN AND DIFFICULT PANDEMIC TIMES…


PLEASE NOTE THAT ALL OF OUR IN-PERSON EVENTS ARE ON HOLD UNTIL FURTHER NOTICE. THANK YOU FOR YOUR UNDERSTANDING.



LET US INSPIRE YOU TO MAKE THE CHANGES YOU WANT TO MAKE IN LIFE,
TO MAKE CHOICES THAT ARE ALIGNED WITH YOUR VALUES IN LIFE, TO HELP YOU MOVE FORWARD WITH CREATING NEW EXPERIENCES, AND TO LET GO OF WHAT NO LONGER SERVES YOU IN LIFE

 Don't do it alone.
It starts with you investing in yourself. 

---


Heart & Soul Coaching and Retreats

Ottawa, ON
Canada 
(613) 739-0009
christine@heartandsoulcoaching.ca
www.heartandsoulcoaching.ca                                                                                                                                                                                                                                   ICF ACSTH
We are bilingual. / Nous sommes bilingues.                                                                                                                    ©  2021 Heart & Soul Coaching and Retreats
Follow us and like us on:
facebook_account  linkedin_account